Do you need safe and effective wasp nest removal in Albury-Wodonga? Jim's Termite & Pest Control are your local experts.
The team at Jim's use the latest in pest control methods to get rid of wasps quickly and safely. Call 131 546 and your local technician will be with you shortly.
What to do when you need wasp nest removal
Our beautiful gardens and outdoor areas are highly attractive to wasps, but they can pose a danger so close to the home. There stings are painful and have the potential to cause anaphylaxis, so they need to be removed by a pest exterminator as soon as possible.
Why you need a professional wasp exterminator
These pests can be highly aggressive, and unlike bees, sting multiple times. If disturbed, they also have the potential to swarm. So if you have a wasp nest, never risk your health and safety by attempting to remove it yourself.
If you suspect a wasp may sting you, move slowly away, avoid fast movements (do not swat at the wasp), and don't shout. Stay away from the nest and quickly call the professionals.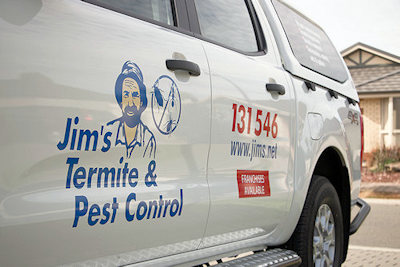 What does extermination involve?
When you call Jim's to eradicate wasps, a local exterminator will attend your property and conduct a thorough inspection.
During the inspection, we will locate any nests (even those that may have been hidden from you). We can assess what types of wasps are nesting on your property, as different species may require slightly different treatment methods. This also helps us ensure the area is safe before we deal with the nest.
We will assess if the nest can be removed and/or apply suitable, safe pesticides to eradicate the wasps.
Your technician may then offer you some tips to prevent the recurrence of wasps, including:
Closing doors and windows
Storing and sealing sweet and sticky foods securely
Removing easy access to garbage and rubbish
Hotels, accommodation and body corporate
Our approach to wasp nest removal in commercial settings is similar to our standard removal.
If wasps are on your commercial property, your Jim's exterminator will inspect and locate wasp nests and then treat them.
Following the removal, we will advise your staff how to identify the signs of a potential wasp infestation in the future. This will allow them to inspect daily for nests, so and know when to call the exterminators to keep guests and staff safe.
For ongoing commercial pest control and wasp prevention, contact us for further advice.