Are you being bothered by buzzing mozzies? For expert mosquito control, you can trust Jim's Pest Control Albury.
The team at Jim's use safe and effective pest control methods to exterminate mosquitoes fast. Call 131 546 and your local technician will be with you shortly.
Why you need mosquito control
Why you need mosquito control
With the beautiful Australian climate, mosquitoes are usually just a fact of life. But these pests can pose a surprising risk, and sometimes a professional hand is needed to get them under control.
Mosquitoes are disease carriers, and the species present in Australia have been known to carry serious (and sometimes fatal) diseases such as Ross River Fever, Barmah Forest disease, Dengue Fever, and Murray Valley encephalitis.
So, if you're spotting more mosquitoes than usual on your property, they could be more than just an itchy nuisance. To protect the health of you and your family, we recommend you get professional mosquito control.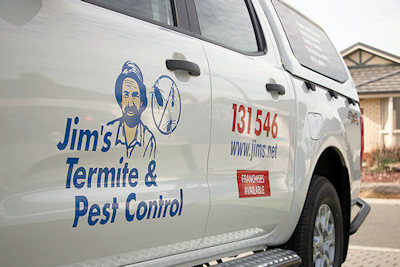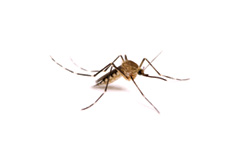 Preventing mozzies
When it comes to mosquitoes, prevention is always better than needing an exterminator. Unlike many other pests, it's easy to reduce the chance of an infestation. These are some simple practices you can adopt around the home:
Remove standing water. Stagnant water is a breeding ground for mosquitoes, so you should frequently empty anything that may hold water, like wheelbarrows, buckets, pet bowls, empty pot plants, pot plant saucers, drains, ponds, and sandpits.
Maintain your yard and gutters. Blocked gutters will attract mosquitoes and are also a safety hazard for your home. You can make this job more manageable in the future by trimming large trees close to the building.
Cover up. If you're going outside, particularly at dusk and in the warmer, more humid seasons, wear long sleeves, pants, socks, and enclosed shoes.
Use repellents. You can cover your skin with repellents or burn citronella candles and oil to deter mosquitoes.
How do we exterminate mosquitoes?
If you do end up with a mozzie infestation in your home or backyard, it's best to get an experienced, professional pest exterminator like the team at Jim's.
We will start by inspecting your property to identify any breeding sources. Our trained bug exterminators then control the mosquitoes with larvicide. This either destroys larvae or prevents them from maturing into adult mosquitoes, thus stopping the breeding cycle in its tracks.
We will also look for and remove any other opportunities for a mozzie outbreak to ensure they don't come back.
Your local Jim's technician can offer you a range of treatment options to suit your budget and situation. No matter which option you choose, we always take the safety of you, your loved ones, and the local environment into account.