Dealing with bees can be tricky, but Jim's Pest Control Albury can assist you with safe and humane bee removal.
Your local pest exterminator is insured, licensed, fully trained, and experienced. To speak to our friendly staff, call 131 546 and we will help you fast.
Have you got a bee infestation on your property? While these creatures are a vital part of the environment, they are very risky to have around. This is due to their painful stings, and the fact that in some cases they can cause anaphylactic shock.
You should never attempt to remove a beehive yourself. These creatures get disturbed easily, and you will likely find yourself being swarmed. Instead, the team at Jim's Pest Control Albury are experienced in humane bee removal that keeps everyone safe.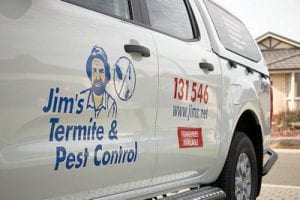 Although bees can be scary, these insects play a hugely important role in the environment. That's why we will always attempt to capture bees and relocate them to a more suitable area whenever possible.
Our technicians have spent time training and learning appropriate bee removal techniques to ensure that we can relocate instead of exterminate when the placement of their hive allows. We work with relevant bee societies and beekeepers to keep our knowledge up-to-date and maintain a high level of success in removing bees.
Will all the bees be saved?
Sometimes complications may prevent our technicians from capturing some or all the bees.
When beehives are hanging in trees, on letterboxes, in bushes, or on the side of a building, we can easily contain them. But once they move inside the walls of homes, into tree trunks, or other small areas, it's difficult to remove safely and we may have to exterminate them instead.
To ensure the highest level of success in bee removal, you should contact a professional pest controller if you see bees close to your home or in any area that concerns you.
When you contact Jim's Pest Control for bee removal, our technicians will visit your property to assess the situation. We will then evaluate if we can safely remove the bees or if extermination is the only option.
Bee removal is often more expensive than traditional extermination. In the case of beehives in walls or chimneys, you may need to contact a builder for repair work.
Albury locals trust the Jim's name for friendly customer service and a job that's done right the first time. Jim's Pest Control is no different.
Our technicians are all licenced, insured, and trained the high Jim's standard. Being part of a national company means we can all keep our prices down and pass the savings onto you.